Highlighted Editing + Retouching Work
Shake Shack: Rainbow Parade
Created for Shake Shack's Pride Campaign in 2018. The Design team created a six color parade of burgers and fries, wanting each color to be one square in Instagram, and transition seamlessly. Three of these images are moving GIFs.
I took the top 6 images and edited them in Photoshop to match perfectly, despite the boards not bring flush, strange overlap or no overlap between squares, and all general touch-ups for the food and drink.
Estrella Jalisco: World Cup 2018
Photographed + Edited Estrella Jalisco bottles to match perfectly with the color and tone of a motion commercial being shot simultaneously.
Bottles were made to look colder, touched-up so gold reflectors behind the bottle could not be seen, colored to match video team's look, and labels matched in color perfectly to branding.
Page Street Publishing Sous Vide Cookbook
Photographed, edited, and retouched 100+ dishes to print standard, for printed cookbook. All blemishes and problems must be completely gone, as people will be looking closely at the photos.
KRUPS Appliances Shoot
Shot and edited a variety of KRUPS appliances featuring food and drinks. Grills, Coffee Makers, Air Fryers, etc. All KRUPS Appliances need to be perfectly clean and shiny. Strange reflections removed, brand name readable.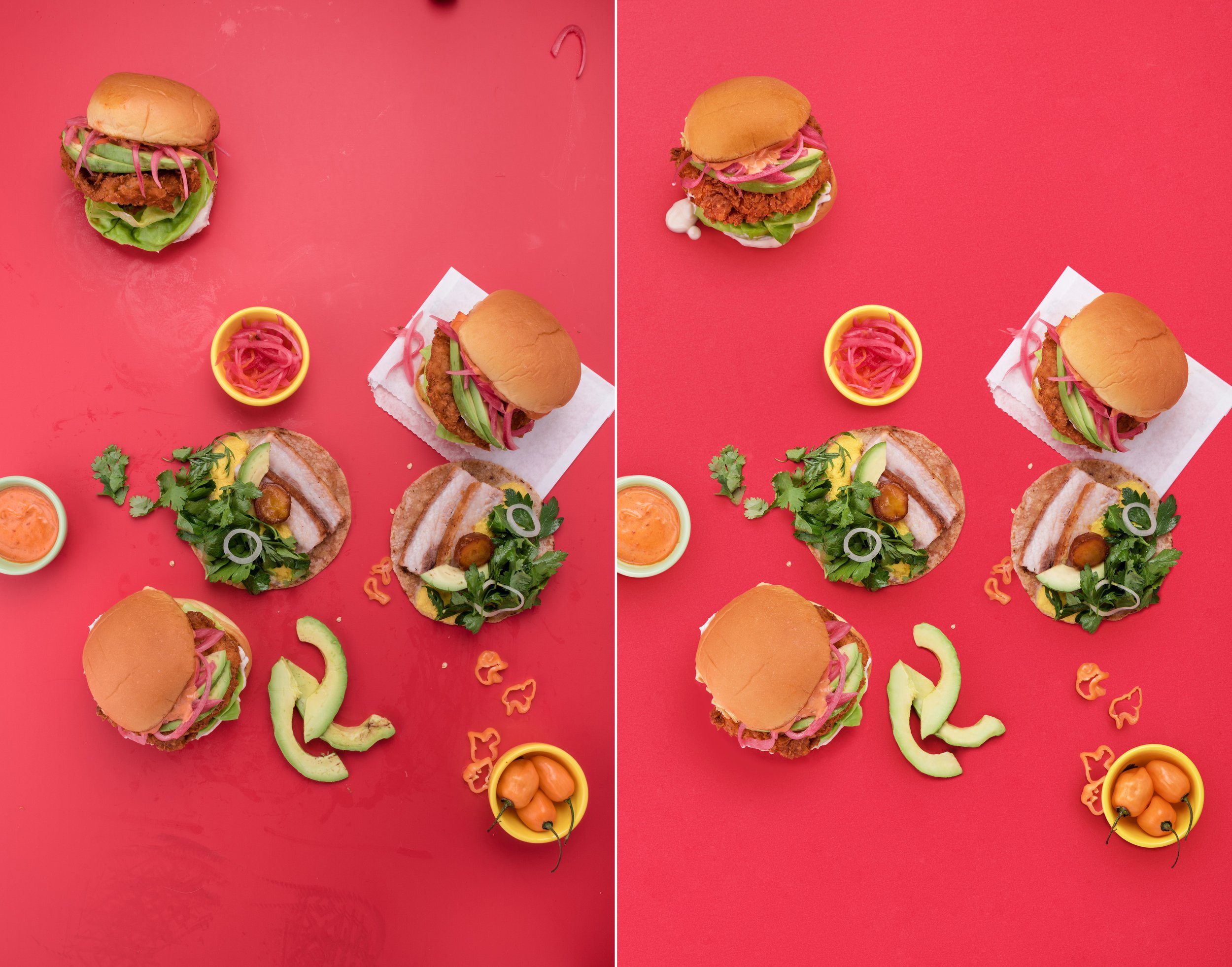 Shake Shack: Large Scale Printed Collateral
Editing for Shake Shack necessitates color accuracy to match their very important burger coloring: a certain orange for their buns, and a certain bright red for their tomatoes. Photos above include a Tombstone-sized photo for large-scale printing, work for their Shake Shack App photos that must look the same across their domestic menu of over 300 items, and tricky editing for on-the-fly social shoots, like the improvised Christmas tree shown above.
Bawnmore Jerky Social Product Photoshoot
Edited and retouched various beef jerky images to clean up crumbs, correct packaging, and make jerky look fresh and delicious. All bags have a preservative bag inside that often needed to be edited out of the clear see-through part of the bag.